I've don't have kitchen graces, so to speak. So when I tell you that making homemade bread is a possibility, you've got to know that it's entirely feasible! If a woman who can barely make dinner is making 5 loaves of homemade bread each week, so can YOU. I started with store bought flour, and today I'm sprouting and grinding my own wheat at home. Each step of the way, I just learned one thing and did it until I grew confident to try the next thing. Here are the 10 steps that started me on my journey. And it's not over yet…
1. Motivation for something better
My journey of how and why I started making bread at home begins with hungry, sourdough-bread-loving-children. They were  nibbling through Trader Joe's loaves of sourdough faster than we could buy them. Not only were these loaves made with nutrient-lacking white flour, but the cost was adding up quickly. I loved the crunchy whole grain breads, but they have a pretty price tag too. I think we were spending around $20-25 per week on bread for the whole family. That's crazy!
2. Finding something doable
I had read about making bread at home, but it seemed like a huge undertaking with a hefty learning curve. However, somewhere I had heard mention of the Zojirushi Breadmaker
which makes a normal-shaped, 2-pound loaf of bread and that intrigued me. Surely throwing ingredients into a bread machine was doable. So one Christmas, three and a half years ago, I unwrapped a Zojirushi Bread machine and began the art and science of bread making.
3. Read and experiment
My first loaf of bread was a pathetic, lumpy mess! I spent a winter afternoon hoping to impress my family with a fresh loaf of warm bread, only to have them come home to something that looked like a tumor! I didn't know what I'd done wrong, so I read. A lot. Online and in books. And then I tweaked some things and tried again. It took lots of reading and adjusting to get it just right. But I didn't let my failures stop me from trying again and again.
4.  Start small
When I first started making my own bread, I bought King Arthur Flour from the store. It was way cheaper than buying those expensive loaves of bread! And the quality was the best the supermarket could offer. I did it this way for a good year.
5. Perfect your daily loaf
I make the same recipe for a whole wheat loaf at least 5 nights a week. It took some time and tweaking to get it to where it is today, but its a reliable loaf of whole wheat that we use for toast and sandwiches daily. I put the ingredients into my bread machine at bedtime, set the timer and wake up to a yummy smelling loaf of bread in the morning. I have this recipe memorized and can have it done in less than 5 minutes. Typically, I turn a CD on when I start making it and in just 2 songs, I'm finished. That's easy! And although there are nights I'm exhausted and don't feel like it, it's not too hard to pull it together for 5 minutes to ensure we've got bread for toast and sandwiches the next day. It has become a habit.
6. Take baby steps
After growing comfortable making homemade bread, I started to hear of people grinding their own wheat. So I researched and read more about what this would entail before investing in a quality wheat mill. This led to even more savings, as I can buy a 50 pound bag of wheat berries for $34, whereas a 5-pound bag of King Arthur Flour runs around $5 (although we stocked up when Albertson's put it on sale, which they often did for $3 or so per bag). And just this last week, after being convinced of the many health benefits, I began sprouting my wheat berries and then drying them in a dehydrator before grinding. If you'd have told me I'd be sprouting wheat three years ago, I'd have been supremely overwhelmed at the prospect. But today it's a doable step. Start with where you are and your comfort level. Bite off only as much as you can chew.
7.  Have fun trying new things
After gaining confidence and some knowledge about bread making, I started to try my hand at making artisan loaves of sourdough bread. I let my bread machine make the dough, but then I shaped it and let it rise before baking in the oven. It's so satisfying seeing loaves I shaped come out of the oven. Again, there was lots of #3 required here, but it was so enjoyable to learn this ancient art. And there's nothing like the smell of fresh bread in your kitchen.
8. Invest in quality supplies
I have one friend who just buys cheap bread makers at the thrift store and gets a new one every time it breaks. That's one way to do it and if that's what works for you, then stick with it.  But I found that I had more confidence knowing that I had the best machine possible for the task at hand. My beloved Zojirushi Breadmaker
has 2 steel paddles and a powerful motor than can handle whole wheat loaves. Not all machines can do that well. I also invested in a digital kitchen scale, because once I started grinding my own wheat it wasn't suffice to just measure volume, as that can vary. When it came time to buy my wheat grinder, again I read lots of reviews and just went for the best I could afford knowing that this was a purchase that would pay for itself over time and last for many years.
9. Get connected
I joined a great Yahoo group for bread making when I first got started. And there's The Fresh Loaf, a wonderful forum for all things related to baking bread. Chances are there are even ladies in your community, whether next door or at church or in your homeschool group, that make their own bread one way or another. Get connected to somebody you can lean on for help when you're getting started. It can make all the difference to have someone to ask your questions to.
10. Keep educating yourself all along the way
Once you get going, you'll be all set for the daily task of bread making. But don't stop there. It's such fun to try new loaves and new techniques. Time and dedication will make you an expert bread maker. You'll be able to teach your children. Neighborhood kids will marvel that there's a lady who really makes bread in her own oven. There are so many great books on bread making. Check your library or the many online options.
I started with The Laurel's Kitchen Bread Book
, but there are so many that look wonderful, especially Peter Reinhart's Artisan Breads Every Day
or the Artisan Bread in Five Minutes a Day series
. You might even look for some tutorial's on YouTube.
I'd be happy to answer any questions you might have on making bread at home. I'm no expert, but I'm well on my way. And that's only because I got started and kept at it. You can too!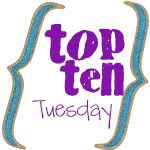 I'm linking up with Oh Amanda for Top Ten Tuesday. Hop over to see everyone's lists of 10.